Disclosure: When you purchase something through my affiliate links, I earn a small commission. As an Amazon Associate, I earn from qualifying purchases.
When I first considered growing platies, the first question I had was how many of them could be kept in a fish tank. I knew from experience that this was a question with no definitive answer. However, as time passed, I learned some exciting rules that provide a rough estimation.
Each platy fish requires two gallons of water on average. For example, 20-gallon tanks can accommodate a group of ten platies, while 10-gallon fish tanks can hold merely five. Bear in mind that female platies are relatively larger and therefore require more space.
As we move forward, I will list how many platies can be kept together in tanks of 1 to 75 gallons. Then, I will discuss whether platies must be kept in groups and whether you can grow merely female ones. I will also show you how to set your aquarium so it can accommodate multiple platy fish.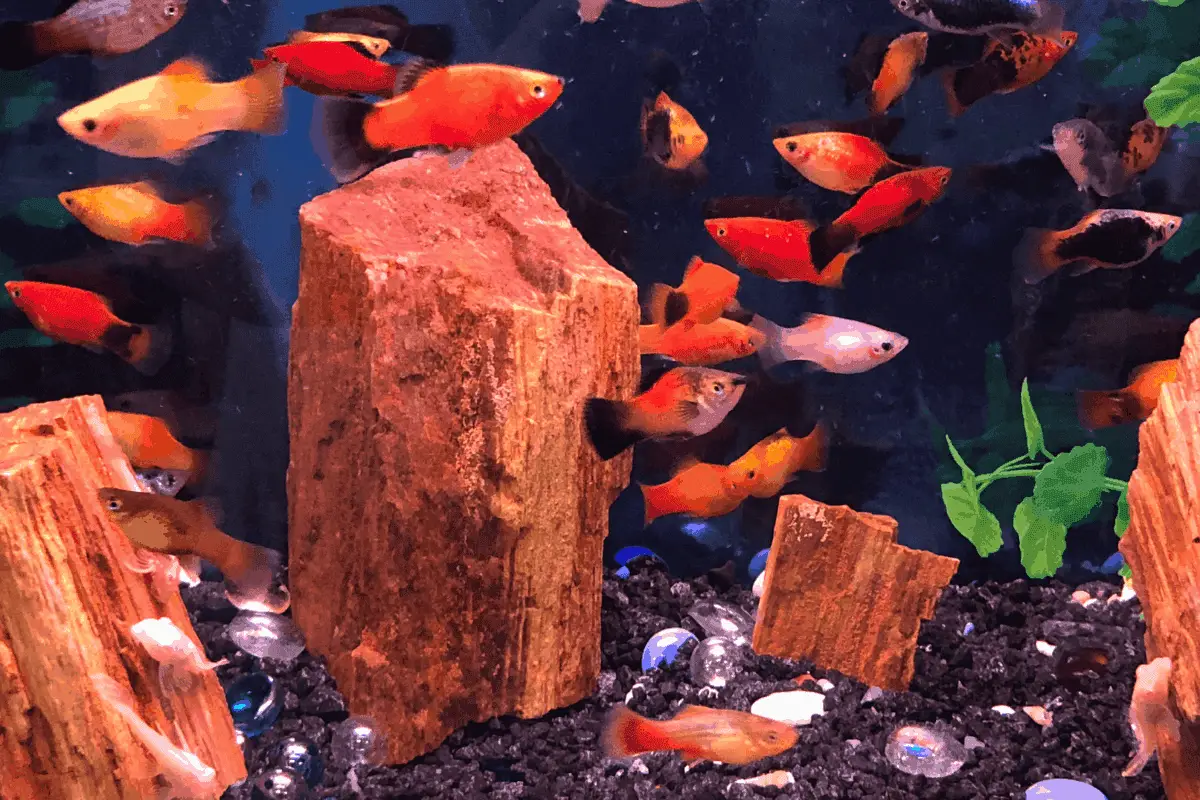 How Many Platies Should I Have In My Fish Tank?
Platies will make a fun and exciting addition to your aquarium, but only if they are healthy and energetic. They won't stay that way if you force them to tolerate a small, overcrowded tank. Some people think that identifying a tank of the right size for platies is difficult. But, in truth, the process is pretty straightforward.
Most aquarists use the same rule to identify tank size. They expect one gallon of water to accommodate one inch of fish.[1] But knowing this rule isn't enough. You must also determine the size of the fish you want to accommodate.
With platies, the males have an average size of 1.5 inches. For the females, that figure stands at 2.5 inches.[2] Keep that in mind before you proceed. The actual size of the tank will depend on whether your platies are male or female. If you know the genders, this is what you can expect:
Small-Sized Fish Tanks:
1-Gallon tanks – 0 Platies (Male), or 0 Platies (Female)
2-Gallon tanks – 1 Platy (Male), or 0 Platies (Female)
2.5-Gallon tanks – 1 Platy (Male), or 1 Platy (Female)
3-Gallon tanks – 2 Platies (Male), or 1 Platy (Female)
3.5-Gallon tanks – 2 Platies (Male), or 1 Platy (Female)
5-Gallon tanks – 3 Platies (Male), or 2 Platies (Female)
6-Gallon tanks – 4 Platies (Male), or 2 Platies (Female)
6.5-Gallon tanks – 4 Platies (Male), or 2 Platies (Female)
7-Gallon tanks – 4 Platies (Male), or 2 Platies (Female)
Medium-Sized Fish Tanks:
10-Gallon tanks – 6 Platies (Male), or 4 Platies (Female)
15-Gallon tanks – 10 Platies (Male), or 6 Platies (Female)
20-Gallon tanks – 13 Platies (Male), or 8 Platies (Female)
29-Gallon tanks – 19 Platies (Male), or 11 Platies (Female)
30-Gallon tanks – 20 Platies (Male), or 12 Platies (Female)
36-Gallon tanks – 24 Platies (Male), or 14 Platies (Female)
Large-Sized Fish Tanks:
37-Gallon tanks – 24 Platies (Male), or 14 Platies (Female)
38-Gallon tanks – 25 Platies (Male), or 15 Platies (Female)
40-Gallon tanks – 26 Platies (Male), or 16 Platies (Female)
55-Gallon tanks – 36 Platies (Male), or 22 Platies (Female)
60-Gallon tanks – 40 Platies (Male), or 24 Platies (Female)
75-Gallon tanks – 50 Platies (Male), or 30 Platies (Female)
I highly suggest avoiding anything smaller than 10 gallons when it comes to platies. Even though they can survive in tanks as small as five gallons or even less, such environments are restrictive. They encourage parameters like the pH to fluctuate. They also permit the concentration of toxins to spike.
Please aim for ten gallons. Twenty gallons is even better. While the figures above adhere accurately to the '1 Gallon Per Inch of Fish' rule, you cannot ignore the fact that your tank has additional objects that also occupy space. That includes the plants, decorations, filters, and heaters. You have to accommodate their presence by adding a few more gallons.
In other words, 15 gallons will do a better job of housing six platies than 10 gallons. Don't forget to consider the difference in size between male and female platies. Favor the females in this regard. For instance, a group of five fish, consisting of four female platies and one male platy, should be kept in 12-15 gallons, not 8 gallons as the '1 Gallon Per Inch of Fish' rule suggests.
Do Platies Need To Be In Groups?
Platies don't have to be in groups since they are not schooling fish. However, they will benefit from such conditions. Platies are highly social and do better when kept in small groups. All you need to do is set up a tank with the correct number of fish, preferably two to three females for each male.
Note that the size of the tank should be based on whether you want a lot of platies or very few. If you want 8 or 10 platies, then avoid setting up a tiny tank for them to stay in. You could get a bigger one and keep two or three male platies along with four to six female platies.
Can You Keep Just Female Platies?
You can keep just female platies in your tank. That is a common practice among fishkeepers that wish to avoid reproduction. Also, female platies are not aggressive and will coexist peacefully. On the other hand, it is not recommended to keep a fish tank that accommodates mostly male platies.
Bear in mind that some female platies will mate with male platies before you buy them from the store. In other words, they can still give birth to young platies even though the tank doesn't have any male platies.
It is worth noting that a tank with just male platies is also acceptable. Male platies are only a problem if you have female platies in the vicinity, especially if the female platies are few.[3] But if your group only has male platies, they will also coexist peacefully.
Can I Keep Two Platies?
You can keep two platies in a tank. Platies only become a problem if you have more male platies than female platies. But a tank with one male platy and one female platy is fine. You can also keep two female platies or two male platies.
However, if you can afford a larger group of platies, it will be even better. As a rule of thumb, aim for two males and six females in a group. Smaller groups will be more exposed to harassment from other fish. In that case, you'll need more foliage to compensate for their numbers.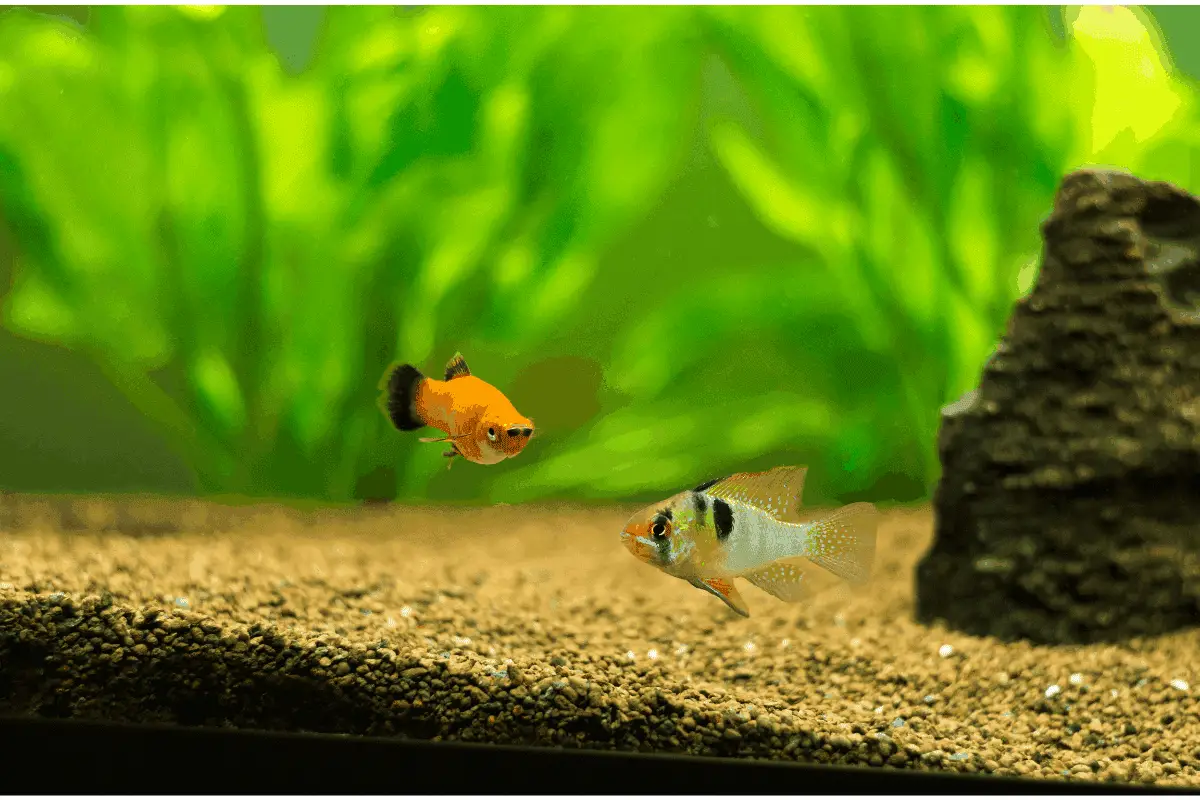 How To Grow Multiple Platies In A Fish Tank?
If you want to rear multiple platies, you have to create a conducive environment for them. This means the following:
1. Choose The Right Tank Size
As was noted above, you need at least ten gallons if you want to house a decent group of three to five platies. Even though they can live alone, platies are happiest in groups, which is why you should look for an aquarium that can comfortably hold multiple platies. Prioritize long, rectangular tanks.
2. Cycle Your Tank Properly
You have to cycle the tank before you proceed. If the tank hasn't been cycled, the ammonia produced when fish waste and leftovers rot will kill your fish. Cycling allows the tank to nurture beneficial bacteria that can break the ammonia down. If the ammonia concentration in your tank keeps spiking, you did not cycle the tank to completion.
If you are confident that you cycled the tank, you probably undermined your work by either replacing your filter's biological media or exposing it to chlorine, a substance that can kill the beneficial bacteria in your tank.
Either way, you have to ensure that your tank is cycled correctly. One solution is to get some filter media from a friend with an older tank. The bacteria in their filter media will expedite the cycling process in your tank. You can also get the API Quick Start Nitrifying Bacteria (link to Amazon). That is what I usually use when I'm getting new fish.
3. Set The Right Water Parameters
Platies require a temperature of 70 to 80 degrees F, pH of 7.0 to 8.0, GH of 10 to 28dGH, and a KH of 3 to 5dKH.[4] Platies want harder water with a relatively alkaline pH. You should also aim for ammonia and nitrates that are around 0 ppm.
Here is the equipment that I use in my tank to set these parameters:
I use the API FRESHWATER MASTER TEST KIT (link to Amazon) to measure the pH, ammonia, nitrates, and nitrites. That is my favorite bundle because it lasts for hundreds of measures, making it highly cost-effective. If the ammonia is too high or the water is too acidic, perform more frequent water changes.
Generally, platies are hardy creatures. They can tolerate parameters that are less than ideal. Some people even rear them in soft water. However, it would help if you didn't force them to grow accustomed to the wrong parameters. This will induce stress in the creatures.
4. Pick The Right Filter
Platies require a strong filtration system that includes chemical, biological, and mechanical filters. Avoid filters that create a strong flow. Platies prefer very little water flow. They don't need powerheads, wavemakers, or any other device used to increase the aeration of the tank. You have to rely on the filter to ensure that the tank is adequately aerated. Where necessary, you can add one or two airstones.
5. Adjust The Environment
Platies do not have a preference where the substrate is concerned. But they require plants. You can fill their tank with hornwort, amazon swords, duckweed, and java moss, to mention but a few. The quantity will depend on the type of platy. For instance, southern platies are happiest in loosely arranged tanks.
They do not have the same affinity for dense foliage that you may find in other types of platies.[5] Besides plants, you can also include rocks, caves, pots, and other decorations. But you should avoid items with sharp edges. They may cut into your platies, harming the creatures.
Plants and decorations are perfect for community aquariums with large and aggressive fish. The plants and decorations will provide hiding places for platies that have attracted the attention of bullies. But even if all the fish in the aquarium are peaceful, the platies will still appreciate the plants and decorations because they enjoy swimming through and around them.
6. Get Relatively Peaceful Tankmates
Platies are peaceful. They are also small, and that makes them a target for larger creatures. For that reason, you have to select their tankmates carefully. It would be a mistake to assume that every large fish is a bully that cannot coexist peacefully with platies.
However, because platies are such active swimmers, they are just as likely to antagonize larger, slower-moving, more docile fish. You have to match your platies with creatures that are not only peaceful but equally active.
Some suitable matches include Mollies, Guppies, Gouramis, Danios, and Tetras. Bad tankmates that should be avoided include Swordtails, African Cichlids, Arowanas, Tiger Barbs, etc.
While platies can live in community tanks, you also have the option of maintaining a Platy-only tank. The key to success is to ensure that you have at least three females for every male. Otherwise, the male platies will either harass the females or fight one another for the female platies.
If you found this article helpful, these may also interest you:
Conclusions
It is essential to consider the tank's size when planning a platy tank. I also suggest considering the number of males and females you are going to have. If you mix both genders, favor the females when choosing the number of fish.
After picking the group's size, make sure the water parameters are suitable for platies. Consider the pH, hardness, temperature, ammonia, nitrates, and nitrites before introducing new fish. Also, make sure that the tank is cycled properly.
References